Patients and Families Have a Blast at the 2015 RTCL Summer Picnic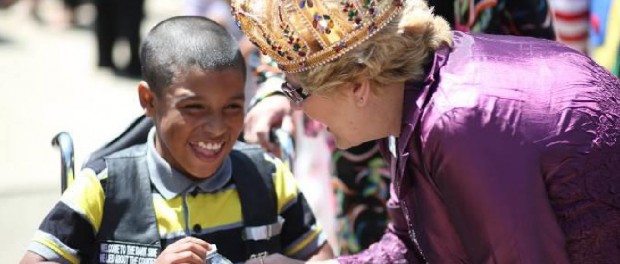 On July 15th, the Recreation Therapy and Child Life Department hosted the Chicago Shriners Hospital's annual summer picnic, sponsored by the Men in Brotherhood (MIB) Lodge #1178 of Elmhurst. Nearly 1,000 polish sausages were served, along with tamales, pasta, pizza, watermelon, and frozen lemonade – all generously donated by MIB.
Patients, staff, volunteers, and families enjoyed visiting with Rainbow Assisted Therapy dogs and the Medinah clowns. Music was provided by bands such as Mojo and the Bayou Gypsies, and even some of the hospital docs were spotted dancing in the lunch line! Chi-LUG (Chicago Lego User Group) set-up a Lego display for kids in the activity mall, which included a hands-on workshop. The local Kiwanis Club offered crafts and face painting. "The MIB are so generous, and our patients and families look forward to the picnic every year," said Darlene Kelly, Director of Recreation Therapy and Child Life.
A representative from Indian Motorcycle presented a donation to Hospital Administrator Mark Niederpruem, and noted the great things Shriners Hospitals does in the lives of children. The day ended with a pie-eating contest, which raised more than $500 for the hospital. A big thank you to all who made this day possible – your generosity helped make this day a memorable event for all!
William R Kuehn
Chairman of the Board of Governors, SHC – Chicago
Shriners Hospitals for Children®