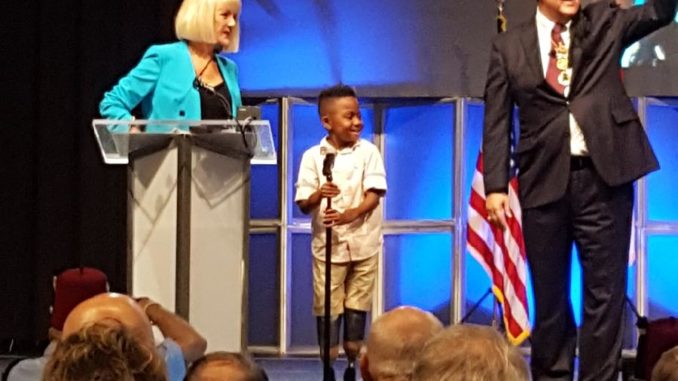 Zion first double hand transplant recipient  on stage at Imperial today.
Zion Harvey's hand transplant marked the world's first bilateral hand transplant to ever be done on a child.
The 8-year-old little boy underwent the hand transplant at the Children's Hospital of Philadelphia, and now hopes to be able to do all the activities that other children can do, like swinging on the monkey bars.
Harvey lost both of his hands and his feet when he was only 2-years-old after contracting a serious infection that caused multi-organ system failure, according to E! News. Both of his hands and his feet had to be amputated and he had to go on dialysis. At the age of four, Harvey received a kidney transplant from his mother.
"I wasn't always like this, when I was 2, I had to get my hands cut off, because I was sick," he told the camera in a YouTube video.
When Zion was six, his mother, Pattie Ray, contacted the Shriners Hospital for Children in Philadelphia to see about getting prosthetics for his hands, like the ones he wears on his legs. It was then that she was told about Dr. Levin and his hand transplant program at the The University of Pennsylvania.