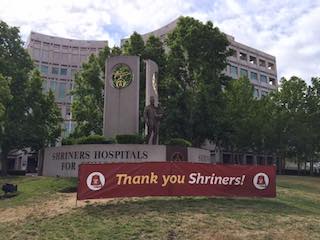 In April 2009, 6-month-old Gavin came down with a low-grade fever that escalated very quickly. Gavin had contracted meningitis, which caused purpura fulminans, a rare blood and tissue disorder.
Gavin was rushed by ambulance to the nearest hospital in rural South Dakota. Doctors there told Gavin's mother, Echo, that her son would need care more specialized than they could provide. They were also concerned that Gavin would not survive the trip to the next hospital. Miraculously, Gavin made it through those first few hours and was then quickly airlifted to a major trauma facility in Sioux Falls. The next few days were excruciating for Echo.
"Gavin spent three days on life support," she said. "We had exhausted all of our options. I just couldn't imagine my world without him. I knew we couldn't give up."
A few more days passed, and when he became stable enough, Gavin and Echo made the trip to Children's Mercy Hospital in Kansas City, Missouri, where Echo received more devastating news. Because of the infection in Gavin's bloodstream, circulation to his extremities had been compromised.
Doctors recommended amputations of Gavin's fingers and legs, but Echo was determined to explore other options. "Medical professionals were telling me they didn't know what to do," said Echo. "I kept telling myself there has to be someone else who knows how to deal with this disease."
The medical team at Children's Mercy Hospital started researching who would be best suited to help Gavin. Within an hour, the team came back to Echo and told her she would be leaving for Cincinnati, to meet with physicians at the Cincinnati Shriners Hospital.
"I knew if Shriners Hospitals for Children couldn't help my son, no one could," said Echo. Once they arrived at Shriners Hospitals for Children — Cincinnati, the expert and compassionate staff gave Echo plenty of guidance and support, helping her cope with the extremely difficult situation. "I knew Gavin was getting the best medical care and attention he needed. It made all the difference to me," said Echo.
During the eight weeks Gavin spent at the Cincinnati Shriners Hospital, he showed everyone just how tough he really is. Gavin walked away from the hospital without amputations or neurological damage. Today, he is an energetic 8 year old who loves to jump on trampolines, run around and talk to everyone.
"When this happened, I didn't know where my son was going or what our lives would be like," said Echo. "Without Shriners Hospitals for Children, I know Gavin's outcome would not have been this successful."