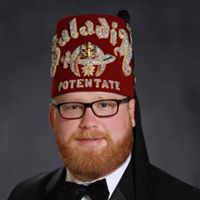 Greetings Nobles,
Summer is finally here and the parade season is in full swing. Oh how Saladin Shriners love to parade! Thank you to all the Nobles, their Ladies and families that dedicate their time to participating in parades all throughout Michigan. This spring I had the opportunity to join the Berrien County Shrine Club and the Mini 50's for the Blossom Time Festival Parade. The sun was shining and a very cool breeze was coming off Lake Michigan. It was truly an honor to be with this group of Nobles and represent Saladin in this fantastic parade. It is always fantastic to see all those Fezes out in public making people smile.Hopefully, I will see many of you over the summer at club meetings and parades.
This spring noted a very special occasion. On April 28th, 1967, a young man of 29 years old made the perilous journey and crossed the hot sands of the desert and became a Shriner. Time marches on and so does Noble John Klumpp. This year marks his 50th year of being a Shriner! He is very active in many Shrine activities and Saladin is lucky to have him as member. Thank you Noble Klumpp for setting such a wonderful example for us all to follow.
While November seems a long way away – don't forget to save the date and purchase your tickets for the Potentate's Ball. This is not going to be a party to honor the Potentate – believe me I don't take myself that seriously. It will be a celebration of the Shrine and of the fellowship we all enjoy when we get together. Be sure not to miss this memorable evening.
Until we meet again, remember, I'm pulling for you. We're all in this together.
Illustrious Sir Jonathan D. Clifford
Potentate
Saladin Shriners