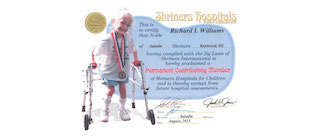 While much attention has been paid to the $100 Million Club over the years, there is another way that individual Saladin Shriners can financially assist Shriners Hospitals for Children.
A Permanent Contributing Membership or 'PCM' is a lifetime membership in our Shriners Hospitals for Children healthcare system.
Through the Shriners Permanent Contributing Membership program, Shriners may make a one-time donation ($150) in lieu of the hospital assessment that is included in your dues each year (The $5 Hospital payment you see on your annual dues notice).  It's an excellent way for you to support your philanthropy, and this contribution may be taken as a charitable deduction if you itemize on your taxes.
Your membership adds to a special endowment fund that directly supports our hospitals. This means your gift will serve for generations to come because only the income from the gift will be spent annually to help the children served by our hospitals. A noble contributing to the fund will receive a certificate suitable for framing and a dues card bearing a special seal indicating he is a Permanent Contributing Member.
The one time payment of $150 will alleviate you from the annual $5 assessment made on your dues notice.
Please contact the Saladin Shriners office if you would like to become a Permanent Contributing Member.