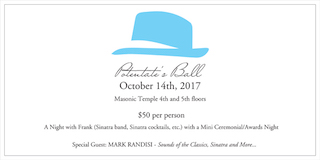 Get ready for a night full of fun and nostalgia
A night that will bring back memories of Frank Sinatra and the magical era he lived in
Nobles, ladies and friends, we bring to you Potentate's Ball… A night full of Heavy hors d'oeuvres,  Sinatra era craft cocktails, beer and wine &  jazz music by Sinatra band
It's a "Night with Frank" featured with a variety of  fun toasts like Sinatra band, Sinatra cocktails spiced up with a mini ceremonial awards night to make your day a memorable one.
Happening at the prestigious Masonic Temple… on the 4th and 5th floor
The event will start at 6:00 PM and till 7:30 PM you can entertain yourself with the melodious piano music on the 4th floor.
You can then join mesmerizing Sinatra show with Jazz quartet from 7:45 to 10:00 in the amphitheater.
To top it up is an exciting after-show-wind-down with a mini ceremonial Awards night until 11
Here is a surprise for you…. We welcome you and your friends with an affordable charge of $50 per person only to have a wonderful time, meet great people, share ideas, and enjoy yourself with Frank
Don't miss out on this amazing opportunity
Book your tickets now.
Call  (616) 942-1570  to purchase tickets or click link below,