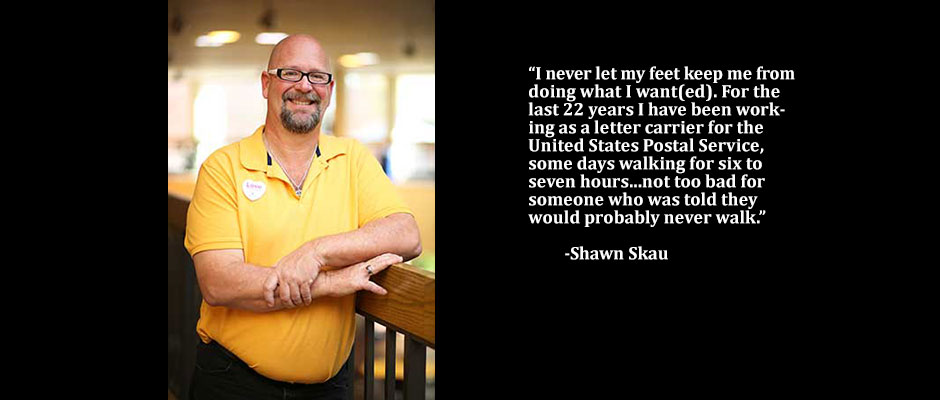 Shawn Skau enjoys his job as a postal carrier. He completes deliveries and gets the mail where it needs to go, even if it means spending hours each day walking from place to place. It might surprise you how much walking is involved. Skau said one time he tracked his steps and recorded 35 miles in just one workday.
Skau says he has trouble with his feet from time to time. But he doesn't let his feet get him down or stop him from doing what he wants. For him, it is all in the perspective. When he was a baby, Skau's parents were told he might never walk, or at least not with a normal gait.
Skau, of Genoa, Illinois, was born with clubfoot, a condition where a baby's feet are twisted out of shape. It affected both of his tiny legs. A physician recommended taking the baby to Shriners Hospitals for Children — Chicago for our pediatric orthopaedic expertise. "My first visit to Shriners Hospital was when I was 18 months old. As a child I had several surgeries at the Chicago Shriners Hospital to correct (my club feet)," Skau recalls. As he grew, Skau went on to have more than 10 surgeries at the hospital.
You might think Skau would be glad to move on from a place that required so much from a young man facing surgery after surgery. But the former patient has fond memories and a love for Shriners Hospital. He quickly recalls the fun activities he played while a patient at the hospital, such as wheelchair basketball and bumper pool. And he loved getting to know other boys dealing with orthopaedic medical conditions. "When I was home, in school, I was the boy who walked funny and couldn't run very well. When I was at Shriners Hospital, with those boys I was just one of the guys," he said.
He spoke about Shriners Hospital often enough to make a big impact on his wife Shelly. Recently, Shelly surprised her husband by bringing him back to the Chicago Shriners Hospital for a special tour. "I spent many months in that hospital (in your
previous building) as a child. Just recently I celebrated my 50th birthday by touring the new hospital which is 34 years old." After the visit Skau was invited to give a talk about his experience to the Chicago Shriners Hospital's Board of Governors.
"I never let my feet keep me from doing what I want(ed). For the last 22 years I have been working as a letter carrier for the United States Postal Service, some days walking for six to seven hours…not too bad for someone who was told they would probably never walk."