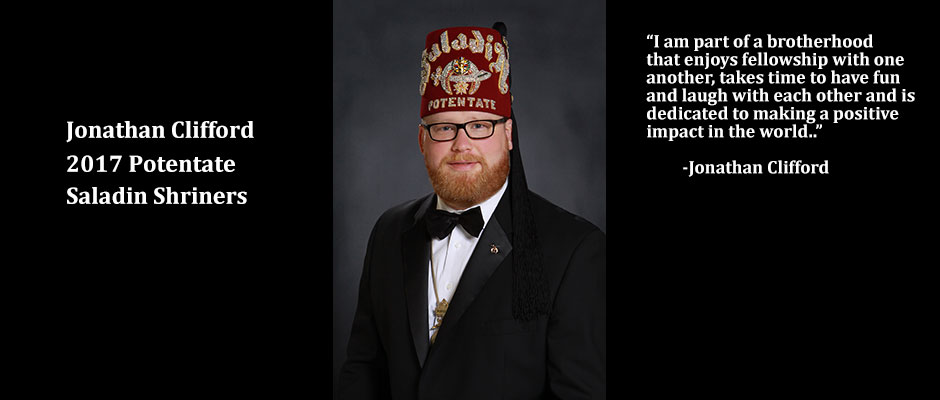 Greetings Nobles!
It has been a great start to 2017. Thank you to those Nobles and their Ladies that have given such a warm welcome as I have visited with you through out Shrinedom. While it is impossible to attend every Shrine Club or Unit event, please know that Divan makes every effort "within the length of our cable tow" to attend Club events and support our membership.
Our next Temple event will be the March 25th Stated meeting. This year we are making an effort to make it worth your effort to attend our stated meetings. We will have a light lunch available at noon before the 1pm meeting – so plan on arriving a little early and catching up with fellow Nobles before the meeting. Once our business is complete, refreshment and fellowship will follow.
On the 29th of April, Saladin Shriners will hold a full Ceremonial for induction of all willing and worthy sons of the desert. This will be our only full Ceremonial for 2017 but it will be a great one. The Ritual cast has been practicing their lines to perfection and the Directors Staff have been combing the desert for inspiration as they prepare to help our initiates cross the sands. It will truly be an unforgettable experience for the candidates and site to behold for the audience. Make sure not to miss this one!
While there will only be one full Ceremonial this year, there will be multiple opportunities for candidates to become a Shriner. We have several mini ceremonials offered and would like the opportunity to bring one to your area. If you have candidates that are ready to become a Shriner but are not able to make our Ceremonial, please let the office know and we will make every effort to coordinate a mini ceremonial.
In the month of May we will have a stated meeting on the 13th. Lunch will be provided before the meeting and fellowship to follow.
It is truly an honor to serve as your Potentate for Saladin Shriners in 2017. Through life's ups and downs, every time I put on my Fez, I am humbled and reminded that I am part of something much bigger than myself – I am part of a brotherhood that enjoys fellowship with one another, takes time to have fun and laugh with each other and is dedicated to making a positive impact in the world. May brotherly love unite us as we seek to provide relief through our great philanthropy – Shriners Hospitals for Children.
Ill. Jonathan Clifford
Potentate
Saladin Shriners