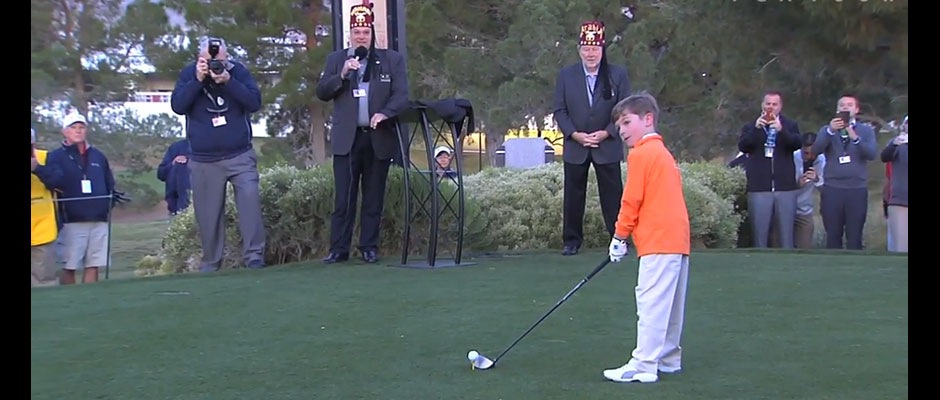 Five-year-old Tommy Morrissey is inspiring millions with his "no limits" attitude.
The golf prodigy and young patient of Shriners Hospitals for Children is the first child with a limb difference to qualify for the U.S. Kids Golf World Championship. Now in its 17th year, the championship is the largest and most prestigious event for competitive golfers ages 12 and under, drawing competitors from 50 countries. The event took place Aug. 4–6 in Pinehurst, North Carolina.
Tommy was born without a right forearm. His parents, Joe and Marcia Morrissey, both enjoy playing golf, and Tommy showed his affinity for the sport at a very young age, preferring videos of the PGA TOUR's finest to animated children's programs. He received his first set of clubs when he was only 18 months old. Since age 3, Tommy's enthusiasm for both life and golf has led to opportunities to interact with and receive lessons from some of golf's greatest players and attend numerous PGA TOUR events, including the 2015 PGA Championship. Through media events, like being on The Ellen DeGeneres Show, Tommy has demonstrated his skills and determination, while his parents emphasize their focus on what he can do, not what he can't. Concerned about the potential for Tommy, and other children, to be bullied, Tommy's parents also hope that his example of resilience will change attitudes toward children with disabilities and inspire all children to chase their dreams.
The Morrissey family has relied on the expert specialty care of Shriners Hospitals for Children since Tommy was 4 months old, especially the leadership of Scott Kozin, M.D., chief of staff of Shriners Hospitals for Children – Philadelphia, a renowned expert in pediatric upper extremity conditions. "Tommy has been a patient of Shriners Hospitals for Children since he was an infant. His family is loving and supportive with regard to his aspirations and goals. Tommy has worked hard to become a phenomenon in golf and the first child with a limb deficiency to qualify and compete for the championship," said Dr. Kozin. "The team at Shriners Hospitals for Children has worked with Tommy and his family to optimize his strength and balance to maximize his golf swing. Strengthening his shortened right upper extremity and maximizing his core strength have been the major emphasis to ensure balance and power. Tommy has become a mentor for other children with limb differences. His determination and drive is an example of the accomplishments possible for children with these conditions, provided they have the backbone of a supportive family and Shriners Hospitals for Children." Whether a child's limb deficiency is present at birth (congenital) or the result of an accident or disease (acquired), it is important to get the right care as soon as possible. Shriners Hospitals for Children offers innovative and advanced treatment options combined with the expertise of multidisciplinary teams. The health care system, which has 22 locations in three countries, has provided care to thousands of children with limb differences.
Tommy was featured this year at the Shriners Hospitals for Children Open in Las Vegas, Nevada, which was held Oct. 31 – Nov. 6 at TPC Summerlin. Tommy and his parents shared lessons in life and golf with children from the community, other Shriners Hospitals for Children patients and several of the PGA TOUR professionals participating in the event.
"Tommy epitomizes much of what we see in so many patients of Shriners Hospitals for Children: strength, determination, and perseverance," said Adam Sperling, executive director of the Shriners Hospitals for Children Open. Showcasing those positive traits through the game of golf makes his presence at the Shriners Hospitals for Children Open the perfect opportunity to raise awareness for our system and for those that it serves."
Source: www.shrinershospitalsforchildren.org