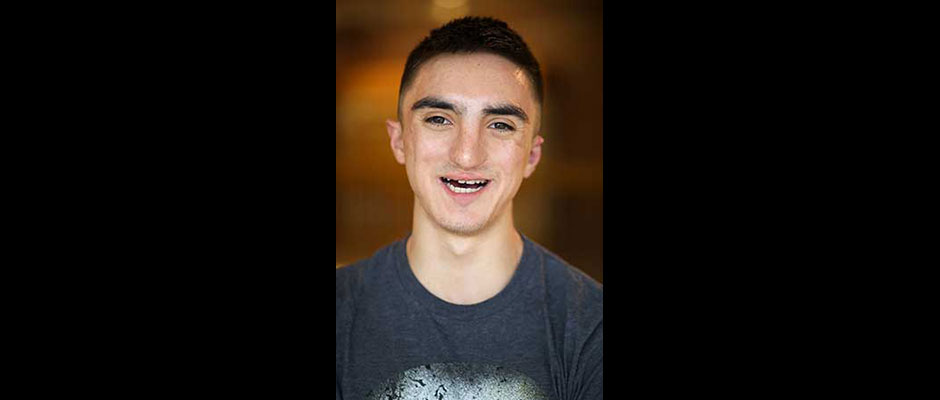 When Cody Conroy was born with a bilateral cleft lip and cleft palate, his mother wasn't sure where to turn for help. The hospital near their Rapid City, South Dakota, home did not have the specialists onsite to perform the surgeries or offer the follow-up care Cody needed. So, until age 9, Cody's speech was extremely delayed.
"I did not like talking to or being around people. I was very shy and aware of my speech condition, and it
was hard," said Cody.
Working as a hairdresser, Cody's mother had a client who asked about her son's condition. She went on to say that she knew Shriners Hospitals for Children — Chicago had an excellent cleft lip and palate and plastic surgery team, and the Conroys soon booked an appointment.
Cody underwent several surgeries at the hospital, including a bone graft surgery to repair his cleft palate; and reconstructive surgery on his nose, teeth and mouth. He followed up with speech therapy at home and school and was soon speaking very clearly – for the first time in his life. "I never thought I would speak normally or that my condition would get better," said Cody. "And wow, it sure did."
The multidisciplinary plastics team at the Chicago Shriners Hospital includes speech language pathologists, audiologists, plastic surgeons, orthodontists, nurses and nurse practitioners, care coordinators, ENT surgeons and more. The goal is to look at the needs of the child in their entirety and offer a treatment plan that is individualized for each patient, which is what Cody says he is grateful for.
"My advice to any child in my situation is for them to know that it will get better, and the people at Shriners Hospitals for Children can help. They do excellent, excellent work, and I'm thankful for how they've changed my life."
source: www.shrinershospitalsforchildren.org