Saladin Children's Trust Gives $80,000 to Chicago Hospital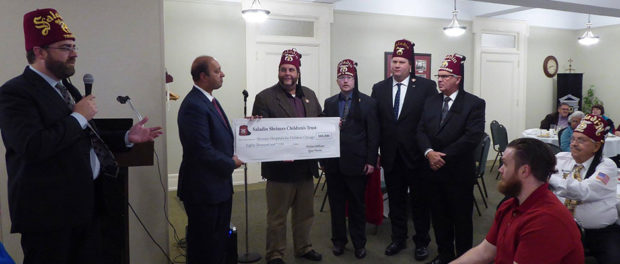 The Trustees of Saladin Shriners Children's Trust voted in October to make a gift of $80,000 to the Chicago Shrine Hospital for two separate projects. $50,000 will be used to digitize the research archive of Dr. Edward Miller. Dr. Miller served nearly his entire career as staff physician at the Chicago Hospital. His research and efforts continue to have a lasting effect on pediatric orthopaedic surgery throughout the Shrine system.
The remaining $30,000 will be used to construct a leadlined room for lower extremity fluoroscopy within the existing hospital motion analysis lab. Dr. Pernendu Gupta, Chicago Shriners Hospital's new Chief of Staff, was present at our October Ceremonial to speak about orthopedic care at the hospital and to accept the $80,000 gift from Saladin's newest four nobles.