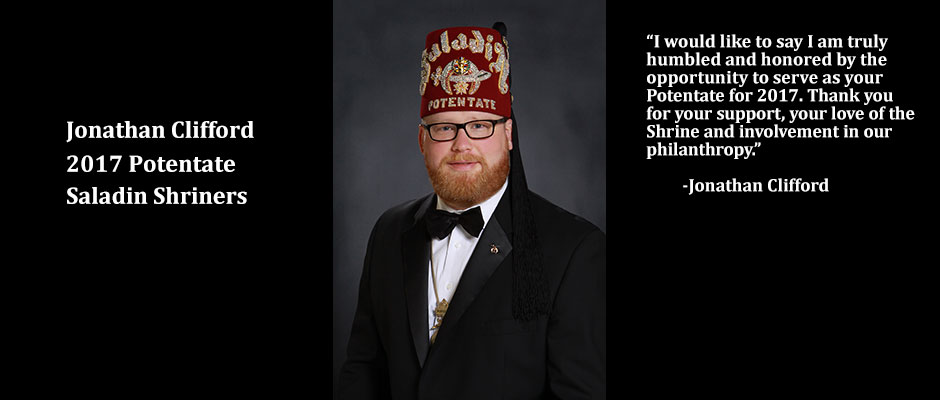 Greetings Nobles! It is truly a honor to be elected to serve as your 2017 Potentate for Saladin Temple. These past four years have gone by extremely quickly. There has been no shortage of change since I was first elected to serve on the Divan. However, what has not changed is our fundamental focus on having fun, enjoying fellowship with one another and supporting our philanthropy as Shriners. These fundamentals will continue to be the focus for the Divan during 2017.
Our membership continues to dwindle in numbers but not in spirit. The membership trends for the Shrine mirror that of Masonic Lodges across our jurisdiction.  There are men joining Freemasonry but not nearly fast enough to replace Brothers that move on to the celestial lodge above. We can lament our shrinking size but it will not change the trend. What we can do is make the best of what we have and engage new Masons and demonstrate the passion we have for being Shriners. To our long standing Shriners – keep an eye out for possible leaders in your blue lodge and make sure they know what the Shrine means to you. To our newer Shriners – listen to the experiences of our long standing members and take to heart the knowledge and wisdom they have to offer. We will inevitably decline in numbers in the coming years but we can strengthen our organization by uniting behind what we have in common.
Your 2017 Divan will be working hard to incorporate fun, fellowship and philanthropy into all our events this year. We will continue to host our monthly Friday Fellow- ship get together. These events are meant to foster fellowship of existing Nobles and provide an opportunity for potential candidates to get to meet our membership. All Nobles, ladies, Masons and possible members are welcome to enjoy Saladin's hospitality.
We will be working to make the experience of attending Saladin stated meetings worthwhile of your time and travel. While the perfunctory duties of holding a business meeting are required, we realize your time is valuable.  In order add to value of attending we will be providing a lunch offering before the meeting and fellowship following. During the stated meetings peace and harmony will be maintained. Nobles are encouraged to bring forth their ideas and thoughts on how to improve our organization.  Our philanthropy will also be a focus in various ways in order to remind us of the impact we can and do make when we come together as Shriners.
Ceremonials will continue to be held separate from stated meetings. The ceremonial teams work hard to make sure the day is dedicated to the candidates and make it a memorable experience. We realize that sometimes it is just not possible for a candidate to make it to a ceremonial due to other obligations. Rather than make him wait, the Divan is open to mini-ceremonials. Please let us know if you have candidates that would benefit from this and we will make every effort to accommodate the situation. In the absence of a formal First Lady during 2017, I have appointed a committee of very capable Shrine Ladies to coordinate the Ladies Program. My direction was clear – our goal is to have fun. There will be a ladies program offering during all of our stated meetings and ceremonials during the year. No doubt they will come up with some very creative and fun events.
The Valentines Dinner will be featured again and put on by your talented Chief Rabban, Jonathan Duley. He is quite gifted at putting on a fine meal and a wonderful experience for all who attend. This will be a don't miss event and likely to sell out so make sure to get your ticket early so you and your lady will be secured a romantic evening with Saladin.
I would like to say I am truly humbled and honored by the opportunity to serve as your Potentate for 2017. Thank you for your support, your love of the Shrine and involvement in our philanthropy.
Jonathan Clifford
Potentate Elect
Saladin Shriners
—–
Installation of Jonathan Clifford and his Divan will occur following the annual meeting.
January 7, 2016
1:00 pm
Grand Rapids Masonic Center
5th Floor Ampitheater
—–
2017 Calendar of
Potenate Elect Clifford
January 7th – Annual Meeting and Officer Installation
February 11th – Valentine's Dinner and Party
March 9th -12th – Grand Rapids Circus
March 25th – Stated Meeting – 1 pm
April 29th – Spring Ceremonial – 1 pm
May 13th – Stated Meeting – 1 pm
July 9th – July 13th – Imperial Session – Daytona
September 23rd – Stated Meeting – 1 pm
October 21st – Fall Ceremonial*
November 11th – Potentate's Ball
December 2nd – Temple Elections – 1 pm
Held at the Grand Rapids Masonic Temple
Annual Meeting, Stated Meetings, Valentine's Party, Spring
Ceremonial, Potentate's Ball, Temple Elections.
* – Fall Ceremonial will be held offsite
Location and Time – TBA