Happy New Year from the Assistant Rabban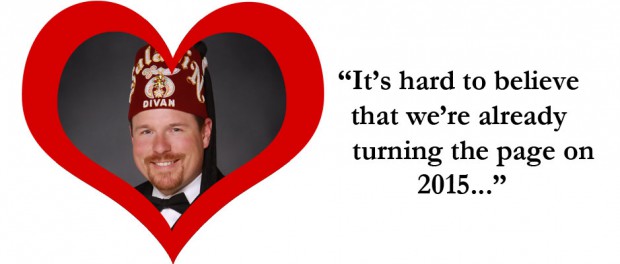 Happy New Year!
It's hard to believe that we're already turning the page on 2015, the year that Marty McFly and Doc Brown were talking about in 1985 in the film "Back to the Future." It's amazing how time passes. I'm sure many of you feel the same way.
2016 promises to be a year filled with great events and programs to get the "fun back in the fez." At our October 3rd Stated Meeting, it was heard loudly and clearly that the Nobility feels that Saladin is doing a great job being active and supportive of our hospital system and patients, but we might be losing touch with the fun part about being a Shriner. I promise that we will do our best to put on quality events this year that you will be proud to be a part of. Our January Stated Meeting and Officer Installation will be a great event that you won't want to miss!
On February 13th, we'll be doing a 5 course wine paired Valentine's Day dinner on the fourth floor of the Masonic Temple. RSVP information will be going out regarding that event very soon, so please be sure to reply when you receive it.
The spring and summer promise to be great seasons for Saladin with the Shrine Circus, ceremonials, stated meetings, and other events designed for fun. Please let us know if you'd like to be part of the planning or implementation of any of our events. Help is always welcome!
In closing, I'd like to reiterate how much of an honor it is to be elected as Assistant Rabban. As the responsibilities of being in the Divan increase, it becomes more and more clear each year how important it is to have the support of the Nobility. Thank you very much for your support that has already been given to me, and thank you in advance for the support in 2016. Let's make it a great year!
Jon Duley
Assistant Rabban