Generations of Care – Meet Linda and Tim Bannon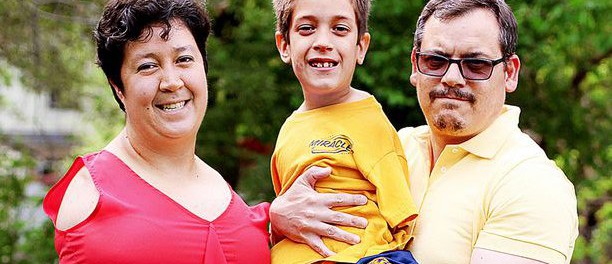 When Linda Bannon, 36, thinks back on her time as a patient at the Chicago Shriners Hospital, what stands out the most is how the staff treated her like family. Linda was born without arms, and was seen by the orthopedic physicians at Shriners Hospital for more than ten years.
After marrying Richard Bannon, the two had son Tim, who was also born without arms. Linda knew exactly where Tim needed to go for expert medical care that would help him navigate his condition and lead a life of independence.
Tim, now ten years old, has been a patient of Shriners Hospitals for Children Chicago since he was an infant. Referred to rehabilitation services, Kate Nikolai, occupational therapist, has worked with Tim to increase his level of independence. Tim uses his feet to eat, write, open doors, and even play piano. Kate works closely with engineering students at nearby Northwestern University to design equipment that will assist patients with day to day functions. Together, the team came up with a device to help Tim use the washroom and button his pants without assistance.
"The Northwestern students were all very motivated and helpful when designing their devices," says Linda Bannon, Tim's mother. "They all worked very well with Tim."
Tim attends public school and is quick to point out that he can accomplish tasks just like his peers – such as putting on his shoes or zipping his backpack – he simply does so a little differently, relying on his feet, mouth, and adaptive equipment to accomplish his goals. The Chicago Shriners Hospital has helped give Tim confidence in doing things on his own, and he enjoys speaking to audiences about his medical journey: he has shared his story at several Shriners Hospital events, and even starred in a national commercial for the hospital. If you know a child like Tim who could benefit from rehabilitation services at the Chicago Shriners Hospital, please call (773)385-KIDS.
William R Kuehn Chairman of the Board of Governors
SHC – Chicago Shriners Hospitals for Children®
October 2015