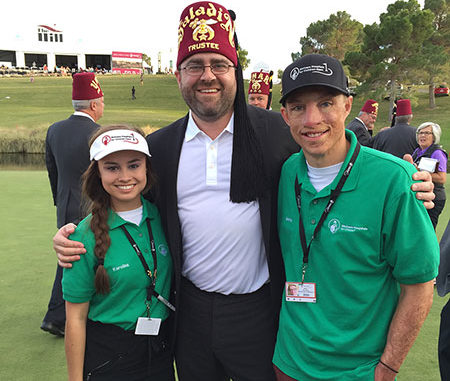 Everyone recharges their batteries in different ways. Our Chief Rabban goes up North to his cottage in Kalkaska, my friend Jeff enjoys a beer and a soak in his hot tub, and I have known more than a few Shrine friends who cast a fishing lure from time to time to relax. For a guy who lives and breathes the Shrine like I do, my recharge is the opportunity to meet and talk with our patients.
This past year I had the chance to meet both of our National Patient Ambassadors while I was attending the PGA tour event sponsored by Shriners Hospitals for Children in Las Vegas, NV. Both are amazing young people with tremendously moving stories of how Shriners Hospitals for Children has changed their lives. When you learn the story of one of our patients it gives you a moment of pause followed by the realization that our involvement in the Shrine makes these stories possible. We make the change in the their lives possible.
Let's face it, you joined Masonry because you wanted to make a change. You wanted to improve. Maybe that journey was about improving yourself. Maybe it was about making a difference in the world. I hope your Masonic and Shrine involvements give you both. If they aren't doing that, maybe you need a recharge. I can't speak for how you recharge, but consider doing something to make the difference in the lives of one of our patients. Maybe volunteer to drive to a hospital or make a financial gift. You won't regret it. It will recharge you.
-Rick Williams, Recorder