Old ribbon tells us a story about the past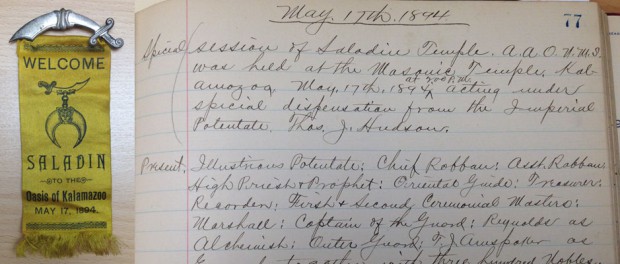 I was looking for something on Ebay recently and I came across an interesting item related to Saladin Shriners. It was a ribbon from an event held in 1894 in Kalamazoo, MI. I bought it on sheer impulse and donated it to Saladin for our own historical collection.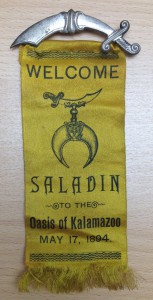 I took a look at the early minutes of the temple and found that May 17, 1894 was quite a day in the early history of Saladin. Keep in mind that Idaho and Wyoming had recently been admitted to the Union. Marconi wouldn't introduce the telegraph for another year. The Klondike goldrush and penicillin would follow shortly thereafter.
A special session of the Temple was called to order at the Masonic Temple of Kalamazoo at 2:00 pm acting under the special dispensation from the Imperial Potentate, Thomas Husdon.
In addition to the normal cast of officers (Potentate, Chief Rabban, etc. etc.) the roll call included an "Alchemist" and a "Eunuch" (I'll pass on that job thank you very much). There were also 300 other Nobles present.
The first order of business was to present the Temple with 104 petitions. Ballots were passed and they were all declared elected. Two demits were also granted.
A unanimous vote was taken to change the fees of the Temple to $30 with the cost of a Fez (not to exceed $3) included. The inflation index doesn't go back quite that far, but to put it in perspective for you, even if we used the value of $30 in 1914, it would be the equivalent to over $700 in today's dollars.
The work was conferred on 104 candidates.
A banquet was held at the American House at 7:30 pm with 531 Nobles and their ladies. After a short address by the Mayor, Noble J.W. Osborne, Saladin's Potentate (Lou B. Winsor), in his response, presented Noble John A. Wolcott an emblem of the order (likely in jewel form), as a token of appreciation of his untiring efforts in working up what, at that point, had been the largest class in the history of Saladin Temple. In his response, Noble Wolcott expressed the thanks of Saladin Temple to the Sells brothers for the use of their camels which they loaned for the purpose of the street pageant.
Afterwards a grand reception and ball was tendered to the Nobles and their ladies at the Masonic Temple at 10:00 pm which was enjoyed by about 150 couples until a very late hour.
The minutes were concluded with a notice that the Imperial Chief Rabban, Frank Locke, had passed away and entered the unseen temple on April 6th, 1894.
It is fascinating to think about 400 or so Nobles of our Temple wearing these ribbons and experiencing this huge day of early history for our Temple. I hope you enjoyed reading it.
Rick Williams
Recorder
Saladin Shriners