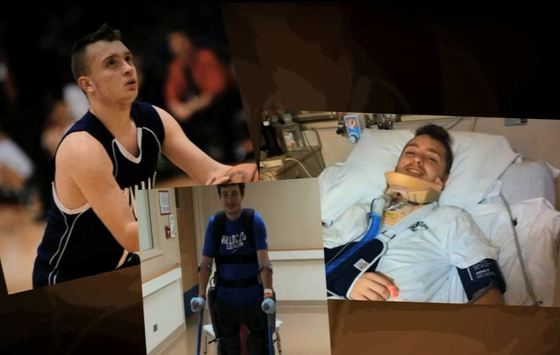 Last year the Saladin Temple Children's Trust made a donation to the Shriners Hospitals for Children – Chicago to purchase a ReWalk exoskeleton system used to help patients walk. This past September a television station in West Virginia did a story about a young man that has received care at our Chicago hospital and has been utilizing the ReWalk exoskeleton. Here is a link to the WCHS-TV8 story with video and below is a copy of the written story. Our admiration goes out to Paul Holley for all his hard work and perseverance in the face of adversity. Thank you to all the Saladin Nobles over the years who have given to our Children's Trust and made this gift possible.
WCHS-TV8 in Charleston West Virginia
Tue, Sep 29 2015 Jeffrey A. Morris
MILTON, W.Va. – Paul Holley has an incredible story of perseverance.
The former Hannan High School baseball and basketball player doing something no one's ever done before — while paralyzed – and he is inspiring other quadriplegics to overcome the odds.
There are a few things Holley can't do because of his disability, but his determination more than makes up for them.
When Eyewitness News first met Holley two years ago, he was using a ventilator and he couldn't walk. Now he is using four wheels and hooves – down that road to recovery.
Holley spends one day a week in Milton, riding a horse as part of his therapy.
The 18 year old is also driving now.
In 2013, a car accident left Holley paralyzed, and he could only use a wheelchair. He was on his way home that rainy February day from baseball practice when it happened.
Since then, Holley has been receiving treatment at the Shriners Hospital for Children in Chicago, becoming the first spinal cord injury patient to use a new "Rewalk Robotic Exoskeleton" as part of therapy. The robot supports his knees and hips helping him to stand and walk again.
"I accomplished every goal that I set out this far for myself and it felt good being able to do that," Holley said. "Being an athlete, I've always liked accomplishing goals and setting goals."
Holley achieved another one of his goals just a few months ago — walking across the field at graduation.
Connie Sue Boggess is his occupational therapist.  They meet once at week at the River Cities Therapy and Recreation Center in Milton. The two have been using a horse named Fawn to build up his upper body strength over the last year.
"He's an amazing kid." Boggess said. "He's going to have ups and downs. We all do but he gets out there and he will make you wanna do more for yourself because if he can do it anybody can do it."
Holley isn't just walking, driving and riding. He's also working at a local restaurant and planning for college. He wants to pursue a degree in business or sports medicine in the Fall. In the meantime, he'll continue going to therapy. He'll also return to the Shriner's Hospital in a few weeks for another Rewalk session.
The teenager credits his mother April Vickers for his strength.
"I'd like to thank my mom for everything she's done for me in the last  two and a half years," Holley said. "I mean she's been by my side and she's never given up on me."